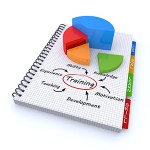 "People are taught technical skills but not the social skills or attitudes needed to make the new arrangements work."
~ John P. Kotter, Leading Change
Despite the popularity of online training programs, feedback from participants indicates a preference for in person training for certain types of topics. Lach Training & Consulting believes in the impact of face to face programs when they cover human relations and cultural aspects of a change initiative. We design highly experiential and interactive programs that not only provide opportunities for individual skill development, but are a powerful forum for group learning. Programs are individually tailored to the specific requirements of each client taking into account the needs of adult learners. All programs are also available in Spanish.
Examples of general topics include:
Teamwork
Motivation
Conflict resolution
Communication skills
Intercultural communication/awareness
Diversity
Leadership
Supervisory skills
Effective meetings
Outcome measurement
Customer service
Volunteer management